Think for a sec­ond about the sto­ries you hear and tell at work. They're all around you—in email mes­sages, let­ters, con­ver­sa­tions, and meet­ings. Some­times they're awful. Some­times they're help­ful. Do you wish they were bet­ter?

Privileging the sender
When peo­ple think of sto­ry­telling, they're often mes­mer­ized by the TELLING part. Either some­one is good, or their not.
When we focus our atten­tion too much on the TELLING part of sto­ries, we give too much cred­it to the sender or the speak­er of the sto­ry. I don't know about you, but when I'm lis­ten­ing to sto­ries, I'm think­ing, pro­cess­ing, ques­tion­ing, and engag­ing with the oth­er per­son sharing—even if they're not in the same room with me! It's not about the sender, it's about my ques­tions and my sto­ry.
Test your­self: have you ever laughed at a movie, email, text mes­sage, gif, or book? If yes, you've processed and engaged with a sto­ry with­out the "sto­ry-teller" being the room. This is why I'm not sat­is­fied with the word "sto­ry­telling" or "telling sto­ries." It priv­i­leges the sender (the teller) too much and doesn't val­ue or acknowl­edge the active lis­ten­er or read­er involved.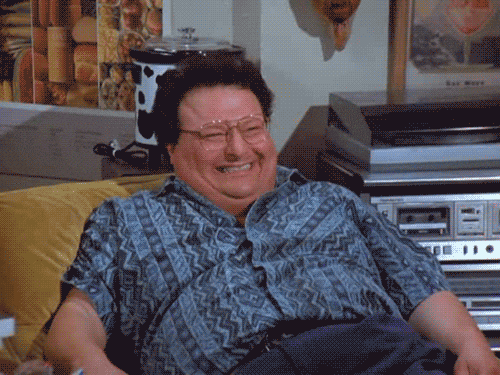 Story
SHARING
Because sto­ry­telling gives too much pow­er one per­son, I want to pro­pose a change in sto­ry vocab­u­lary. We should start using the phrase sto­ry shar­ing to describe what hap­pens when we exchange sto­ries or "take in" sto­ries from oth­ers.
"Sto­ryshar­ing" is what makes us unique­ly human. Experts in the craft Shawn Coyne and Jonathan Gottschall explain that sto­ries are what sep­a­rate humans from ani­mals. We are the only species whose atten­tion and lifestyle is dri­ven by the sto­ries we hear, tell, and long to make hap­pen.
I'm not talk­ing about the next great Amer­i­can Nov­el or a high­ly cre­ative "glob­al sto­ry" with a per­fect plot. I'm inter­est­ed in the con­ver­sa­tions that hap­pen at the din­ner table. News shared in the break room. The dia­logue hap­pen­ing after a great week­end or vaca­tion.
Many of us are "sto­ry think­ing" all the time. We're on the look out for good sto­ries to pass along. We are appalled and worked up by the neg­a­tive sto­ries we can't seem to escape.
Give good stories
If you're like me and want to hear more and bet­ter sto­ries from peo­ple, you must embrace that get­ting bet­ter sto­ries starts with you. Hear­ing bet­ter sto­ries from humans in your life starts with demon­strat­ing or shar­ing the kind of sto­ries you like to hear, and stay­ing con­sis­tent. In oth­er words, to get good sto­ries, you have to GIVE good sto­ries con­sis­tent­ly.
[share­able cite="Josh Mitchell"]To get good sto­ries, you have to GIVE good stories.[/shareable]
When peo­ple see or think about you, they're going to match a spe­cif­ic kind of sto­ry they know you like to hear, read, or watch. If you hate neg­a­tive sto­ries—but share them all the time—you may find peo­ple are like­ly to share neg­a­tive sto­ries with you, since that's what you're known for.
Change your story if you want to get better stories
Change your sto­ry. Do you want to be known as the guy or girl who's always com­plain­ing about the weath­er and traf­fic? Stop talk­ing about the stuff you don't want to hear about.
Share something positive and solution-focused
Shar­ing neg­a­tive sto­ries is easy. Any­one can point out what is wrong with the world and what needs to be changed at your com­pa­ny or work­place. New research from Har­vard Busi­ness Review shows that shar­ing neg­a­tive sto­ries impacts your hap­pi­ness and pro­duc­tiv­i­ty: "Indi­vid­u­als who watched just three min­utes of neg­a­tive news in the morn­ing had a whop­ping 27% greater like­li­hood of report­ing their day as unhap­py six to eight hours lat­er com­pared to the pos­i­tive con­di­tion."
HBR rec­om­mends turn­ing off news alerts, sched­ule moments of silence, and con­sum­ing pos­i­tive media like Huff­in­g­ton Post's Impact series or CNN's new impact series. I rec­om­mend check­ing out Great Big Sto­ry.
Listen to others with your eyes if you want to resonate
When you are shar­ing sto­ries, you'll find that oth­ers respond with sto­ries of their own or some­thing that relates. When this hap­pens, lis­ten with your eyes. Research shows that eyes are the win­dow to the soul: "You can pre­dictably tell someone's emo­tions from their gaze".
If you want your sto­ry to res­onate deeply with anoth­er per­son, "eye con­tact is the cru­cial first step for res­o­nance, a term psy­chol­o­gists use to describe a person's abil­i­ty to read some­one else's emo­tions. It's also impor­tant for cre­at­ing a feel­ing of con­nec­tion." (When Giv­ing Crit­i­cal Feed­back, Focus on Your Non­ver­bal Cues)
Use your eyes, but don't be creepy
Research from psy­chol­o­gist and author, Dr Jere­my Dean shows that eye con­tact isn't always a good thing. "When some­one stares at you, with­out the con­text it can be dif­fi­cult to know if they love you or want to kill you. A long look dis­plays an intense feel­ing, but on its own you can't tell which one. That's one of the great mys­ter­ies of body lan­guage: so much depends on con­text."
Psy­cho­log­i­cal Sci­ence shows evi­dence that too much eye con­tact might pro­voke resis­tance to per­sua­sion. This is because eye con­tact can tend to sig­nal dom­i­nance. So when shar­ing sto­ries, stay hum­ble and give the right kind of eye con­tact.
Recap
Share sto­ries. Don't just tell oth­er peo­ple your sto­ries, antic­i­pate an exchange of sto­ries and active­ly engage. Be a sto­ryshar­er.
Share pos­i­tive sto­ries. There is already enough trou­ble in today to take care of itself. Take time to find a good sto­ries worth shar­ing, rather than the easy way out. This will increase your pro­duc­tiv­i­ty and mood…and the mood and pro­duc­tiv­i­ty of oth­ers!
Change your sto­ry. If you don't like the sto­ries peo­ple are shar­ing with you, change the sto­ries you share. You'll more like­ly start hear­ing bet­ter sto­ries from the peo­ple around you.
Lis­ten with your eyes. Want your sto­ry to res­onate? It turns out that eyes are the win­dow to the soul and eyes are what lead to bet­ter res­o­nance.
Give the right amount of eye con­tact. Too much of the wrong eye con­tact will demon­strate dom­i­nance and an inten­si­ty you may not mean to share.
[reminder]What kind of sto­ries do you like to share?[/reminder]